Kazakhstan: VERCAS:06-08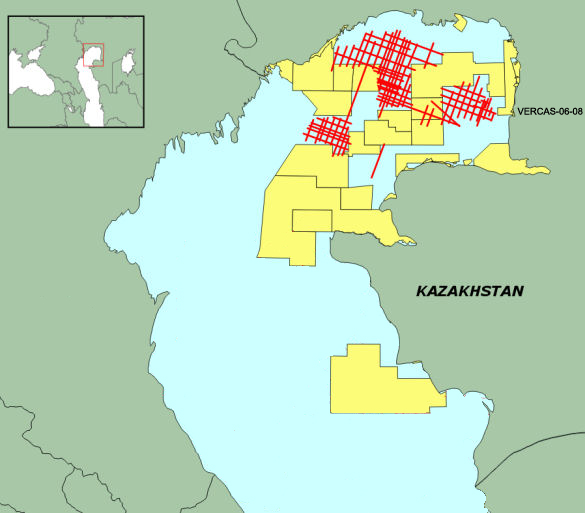 Veritas Caspian llp, is uniquely positioned to provide high-quality, recent vintage 2D data in the Caspian Sea's key acreage. Our unmatched Caspian Data Library now exceeds 8000.00Kms and is located to best enable explorers and producers to optimise the potential of this significant region.
Within the north of the Kazakh sector of the Caspian, we have 3,120km of long-offset 2D Full Fold data specifically targeted to illuminate below the salt in the important Paleozoic Carbonates section which provides the reservoirs for the supergiant oil fields discovered in recent years.
Acquisition Parameters



Acquisition Date: 2006 - 2008
Acquistion by: Veritas Caspian llp
Full Fold Kms: 3,120 km
Recording Length: 9 s
Sample Rate: 2 ms
Source Depth: 1.5 to 3.5 m
Shotpoint Interval: 25 m

Final Products

Available as Fully Ray-Traced Kirchhoff PSTM

Full details of the processing sequence and deliverables are available on request.

Example of a seismic section from the Veritas Caspian llp Northern Caspian, Kazakh sector data library
All Veritas Caspian llp multi-client 2D seismic data is available for license on a non-exclusive basis.