Kazakhstan: VERCAS-MC-09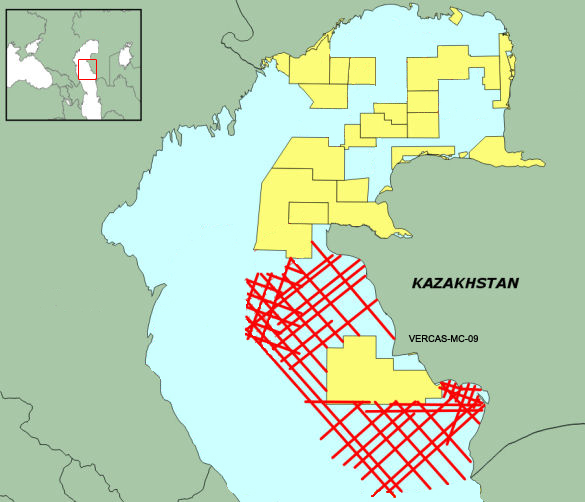 Veritas Caspian LLP, a subsidary of the CGG group, has acquired 2D data within the unlicensed areas of the Middle Caspian, Kazakhstan sector. A total of 5,000.125km of high-quality 2D Full Fold data has been recorded.
The fully processed dataset is available for prospective clients from Q1, 2010.
This ambitious survey has been designed to best cover the successful geologic trends NW-SE across the Caspian and ties in with significant recent discoveries such as Khvalynskoye, Yuri Korchagin and Rakushechnoye. It will also help explorers to discover if the important regional on-shore finds extend offshore.
Basin Highlights
Prolific Hydrocarbon Province
Successful geological trends NW-SE across the Caspian
Recent discoveries in Russian Caspian along border with Kazakhstan
Significant production from fields onshore in Kazakhstan which follow the NW-SE structural terrace trend and may extend some distance into the offshore areas
Hydrocarbon Geology

Triassic and Upper Cretaceous Fractured carbonate reservoirs
Triassic to Miocene clastic reservoirs
Structural traps on and adjacent to regional highs
Source rocks in Lower to Middle Triassic and possibly Lower to Middle Jurassic shales.